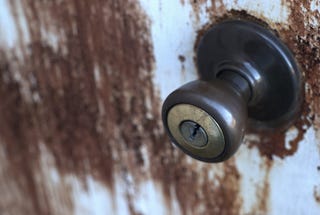 Starting in March, Vancouver will require all newly constructed homes to use lever handles—no more doorknobs, reports the Toronto Star. Lever designs have long been considered superior for their greater ease of use:
"This is very progressive of Vancouver," says Howard Gerry, a professor specializing in universal design at Toronto's OCAD university. "It makes good sense, even for private houses. Think about an aging population or an individual carrying groceries or small children. Levers make access easier."
Not everyone's thrilled, of course, but Gerry points out that these mechanics may well disappear altogether.
"Maybe we'll have tags under our skin so you get close to the door and it's geared to open," he suggests.
More at the Star. Thanks to Tim Maly.
Image 1: a traditional round doorknob. Photo: RPG Master. Image 2: a levered handle, with L-shaped design for easy access. Photo: MoneyBlogzNews