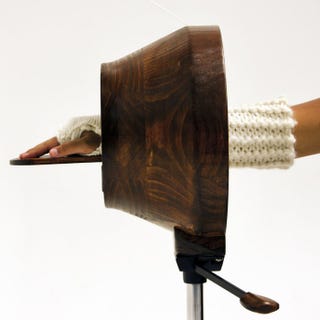 The Design Culture Lab at Victoria University of Wellington, New Zealand is run by Dr. Anne Galloway, an academic researcher whose inquiry takes the form of texts and photographic documentation, as you might expect of someone originally trained in anthropology. But you might not expect some of the other forms her lab's work creates: artificially grown meat products; felted wool dinner entrees; a fictional government ministry and public program; a textile cast for a broken limb literally knitting its hard-soft structure together. These are all part of a three-year research project called Counting Sheep: New Zealand Merino in an Internet of Things.
Galloway's work is aligned with what's often called speculative design, or design fiction. It is essentially creative cultural research, rooted in designed artifacts. The designs aren't intended to solve user-based problems or needs; they're not meant to result in manufactured products. They're created instead to ask provocative questions, to pose future scenarios that are partly fact and partly fiction, and to form bridges between academic and popular debate around important technological, cultural and socio-political issues. Because these visions are based on people's lived experiences, and created for public engagement, Galloway refers to what she does as "speculative design ethnography."
It's the BoneKnitter, above, that caught my eye with Abler in mind. It's a speculative design for a new-old cast for a broken bone, made from three different layers of wool to maximize its structural properties when alternately woven more tightly or more loosely. Galloway and her team imagine it infused with traditional healing substances of the Rongoā Māori—medicines made from New Zealand's native plants, developed by the Maori peoples—and completed with data histories for the merino sheep whose wool has been used to form the cast. It proposes a future technology with roots in naturally-evolved materials and culturally traditional practices.
I had an immediate response to this imaginative object—its beauty and its semi-plausibility. After all, doctors literally speak of bones "knitting themselves" back together, and the intrinsic temperature control and moisture resistance of wool makes it a fine candidate for setting bones.
But the BoneKnitter is just one of an imaginative suite of objects that invite us to look at the physical properties of merino wool and its industrial and cultural context—its politics, its history, its future. The Design Culture Lab spent three years looking closely at merino—a highly valuable agricultural and industrial resource in New Zealand. But instead of generating academic texts or policy recommendations, they created striking invitations to engage public debate in the form of artifacts and narratives. Partly fact and part speculation—and all inquiry-led—these research artifacts allow non-specialists to inform themselves about an industry and heritage with high public stakes at hand. On their project web site, the team writes that
Today's farms are capable of generating and collecting large amounts of data, and we're interested in what people can do with this information – as well as what we might do with related science and technology in the future.

For this project we traveled around the country, visiting merino stations, going to A&P shows and shearing competitions, and spending time in offices and labs. We've talked with breeders, growers, shearers, wool handlers, scientists, industry representatives, government policy makers and others – all so that we could learn about how NZ merino is grown and used.

Then we took what we learned about people's hopes and concerns, and we started to imagine scenarios for the possible future production and consumption of merino sheep and products.
I emailed with Galloway about the BoneKnitter, but also about the meaning of design fiction, creative approaches to research, and engaging publics with scholarship and artifacts.
The BoneKnitter is a beautiful play on the actual medical terminology for how bones form and heal from injury—that they're literally "knitted together." I love how you evoke and also extend this process. Can you talk about the origin of that idea among your team?
Thanks so much. I originally created a design brief around 3D printing that I called "WoolBot"—which wasn't very clever and didn't take us very far. To be honest, Dani Clode and I got bored rather quickly with the idea of making what would most likely end up be really expensive "crapjects." So, with a truly remarkable material at our disposal, and a real desire to look beyond luxury clothing markets, we decided to focus on biomedical and other protective textiles. There's excellent commercial merino products in this area already; for example, Encircle makes some of the best off-the-shelf compression therapy products in the world, and Armadillo creates incredible wool "armour" for combat, fire-fighting and other dangerous jobs.
But, really, everything came together when I broke both my tibia and fibula, and dislocated my ankle joint. (Don't ask; it was stupid.) I spent many days in hospital for surgery and rehab, and was off work for quite some time. One day, Dani and I were sitting at my kitchen table comparing orthopaedic horror stories and scars (hers are elbow-related) and checking out my less-than-impressive fiberglass cast when it all fell into place: we simply had to redesign the whole experience! Once we got our egos and ambitions in check, we talked about how to best utilize Dani's industrial design and craft skills, and came up with the idea of a knitting machine. She showed me a video of someone hand-cranking an old Erlbacher Gearhart home knitting machine and everything just snowballed from there. I could say that the BoneKnitter name evolved after some deep thinking and discussion, but the truth is that I simply enjoy wordplay and when I shared my idea with the team, everyone liked it and it stuck. Having me going through the process of healing broken bones while we were designing it just made it all that much easier—as well as tangible.
The BoneKnitter is one of several fictional scenarios you've proposed for public engagement with this larger human-animal-machine ecology. Those fictions are playful and also research-based. Can you talk about how you try to frame that back-and-forth, between fact and fiction?
Our Counting Sheep research has been all about developing and testing different combinations of empirical cultural research and creative design research. Using sheep as a case study also allowed me to combine ancient and new technologies; the sheep was domesticated about ten thousand years ago, while the Internet of Things effectively came out to the public at this year's Consumer Electronics Show and we've yet to see where it will go. Of course, it also helped that ZQ Merino and Icebreaker's baacode service had already got the ball rolling in terms of merino traceability.